"Everything! Amy-Jane was great at finding what actually mattered and helped me break that down into habits." (Jess, Australia)
This is the response of one of my coaching clients when asked what she liked about my coaching.
Making effective policy requires applying knowledge & skills. It also requires resilient and effective professionals. It requires creating positive habits and behaviors. As a certified Tiny Habits coach, I can help you do just that.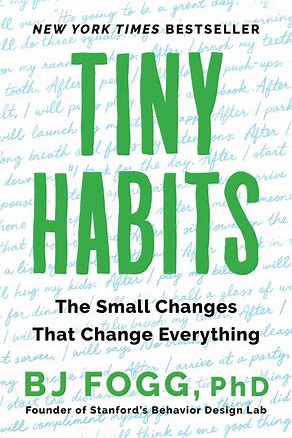 Tiny Habits method
As a coach, I use the Tiny Habits method, a scientifically proven effective method for behavior change. It was developed by Dr. BJ Fogg, behavioral scientist and director of the Stanford Behavior Design Lab. He is author of the New York Times Best Seller "Tiny Habits - the small changes that change everything.
Your desires and aspirations are the starting point for this method. What would you like to achieve? Less stress, more productivity, more focus and/or a healthier lifestyle? Using the Tiny Habits method, together we look at what existing routines you already have in your life and how they can serve as anchor moments for the behavior you want to create. Small and simple are the magic words. This is the only way to turn good intentions into lasting change. Finally, celebrate the new behavior. This releases endorphins in your brain and programs the new behavior into your brain.
94% of respondents who participated in the Tiny Habits coaching program would highly recommend me as a coach.
Some reviews from the evaluation of participants who have completed the 5-day Tiny Habits program with me:
"Amy-Jane provided encouragement and support. She gave inspiring examples from her own experience." (Sharon, UK)
"Quick and useful, positive and personal reactions"(Joost, NL)
"Amy-Jane responded very quickly to any questions I had and during the live call she had some great advice to share. She also checked in on how I was doing with the part of the tiny habits that I was struggling with (the celebration), which helped me a lot." (anonymous)