Prevention classification model
November 3, 2020
Prevention of radicalization and extremism is not an issue of the security domain alone. The social domain also has a role in this, and cooperation between the two domains is necessary, as the prevention classification model makes clear. This model was developed by Dr. Amy-Jane Gielen of Evidence Based Work (EBW).
The prevention classification model takes the phenomenon of individual radicalization as its starting point, rather than the tasks of the professional. It shows that the social domain and the security domain work together on a social task: preventing and countering radicalization.
It starts with very broad prevention, aimed at society as a whole, and then funnels further and further. Three phases can be distinguished, as shown in the illustration. Primary prevention focuses on strengthening resilience and equipping officials, professionals and key figures to recognize vulnerable groups and individuals. This is the stage where the social domain is indispensable. Secondary prevention involves customization to prevent further radicalization of radicalized people. Tertiary prevention should prevent extremists from going wrong again.
Do you want to know how to use this model or make effective and integral policies? Then feel free to contact Dr. Amy-Jane Gielen.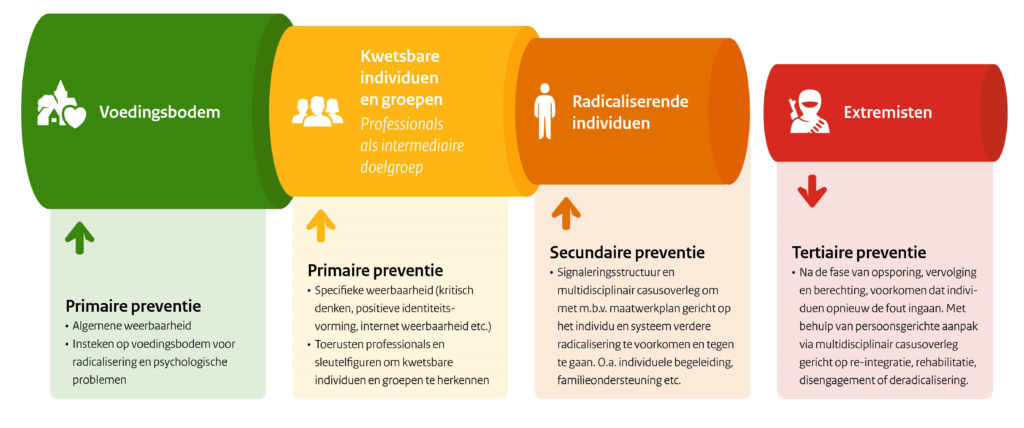 For years, the security domain has been largely responsible for the prevention of radicalization. In itself logical, because the moment you deal with extremism you automatically have a security problem. At the same time, anti-radicalization includes early prevention. OOV officials found themselves in a split as a result. They had to organize activities normally organized by education, youth care or youth work. Officials from the social domain said, "We are not from radicalization, because that is about terrorism and attacks." The model shows that primary prevention is typically something for the social domain. In fact, it is also about strengthening resilience.
Amy-Jane uses this model in program scans, visioning projects and workshops she conducts for municipalities and the central government.
Learn more
Would you also like to create more connection between the social and security domain or reassess your vision on the prevention of radicalization? Call us or fill contact form in.