Effective social and safety policy is what I want to contribute to with Evidence Based Work (EBW). What works? For whom, under what circumstances and in what ways? These are questions I have been working on for 15 years. It is my goal to make this knowledge available and to help people make even more effective policies.
But the mission of Evidence Based Work does not end here. Policies with impact can only be created by effective and resilient professionals. EBW's motto is "best practices need best people. This requires much more than just investing in expertise development. It also requires paying attention to the person behind the professional, the multiple identities we all have, taking good care of yourself and each other and being able to express the dilemmas and tensions in our work. EBW is happy to help with that.
I offer my services for a broad spectrum of clients and cover various topics in the social and security domain:
Social and safety topics:
Youth resilience: citizenship and identity formation

Resilient parenting and family support

Youth unemployment

Education

Youth Health Care

Person-centered approach

Deradicalization and disengagement

Crime & recidivism
Undermining
Discrimination
Polarization
Social unrest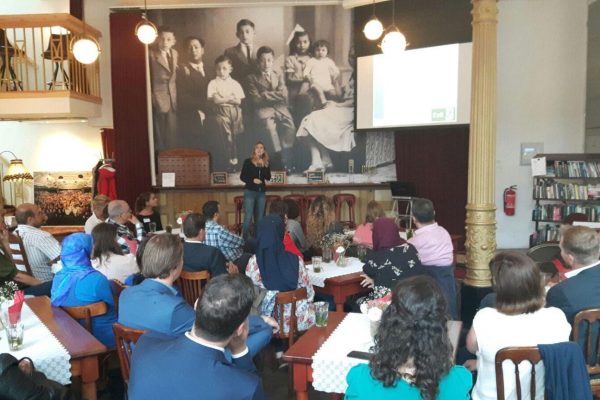 Evidence Based Work works with directors, managers, policy makers and executive professionals from the following organizations:
Municipalities
Ministries
Embassies
European Commission
United Nations
Universities
Knowledge Institutes
Self-organizations
Youth Care
Education
Police
Prisons
Youth Work
I am Dr. Amy-Jane Gielen, political scientist and certified Tiny Habits coach. I am the author of several books, book chapters and publications on effectiveness in the social and security domain. I have taught master's students at the University of Amsterdam on governance and policy.
I have worked in the social and security domain for over 15 years and have held a variety of roles: director, researcher, strategic advisor, teacher, trainer, developer, project leader, process facilitator, committee member, author and speaker.
I have worked with diverse audiences: from vulnerable youth to policy makers and professionals to administrators and everything in between. Being able to switch between these life worlds is my strength.
My specialization is evidence-based work. I want to contribute to a better world through effective policy. My dissertation revolved entirely around the question 'what works, for whom, under what circumstances and in what way?' I am co-developer of the Toolkit Evidence Based Working and I have coached and trained dozens of clients to make more effective policies. 
I am a committed connector with strong analytical skills and great political-administrative sensitivity, able to think critically (along) and quickly master any topic.